For CUSTOM SCREEN PRINTING & EMBROIDERY pick out any items and call or e-mail us for pricing.
Please include - approximate amount needed per item with style no., color and sizes. Also attach a copy of your logo or idea you would like to have designed. This will help in completing your quote.
Minimum order for screen printing and/or embroidery is twelve pieces.
SCREEN PRINTING quote include - how many colors per print and location (left chest, full front, full back, sleeve etc.)
EMBROIDERY quote - include a copy of logo or design you would like completed so we can estimate number of stitches for pricing and placement of logo (left chest, full front, full back, sleeve etc.)
REMEMBER if you do not have a logo we will be glad to help you design one. Give us an idea and let our graphic artist bring your idea to life.
ANY QUESTIONS PLEASE CALL OR E-MAIL
LET US KEEP THE STRESS OUT OF YOUR EVENT - WE ARE READY TO HELP!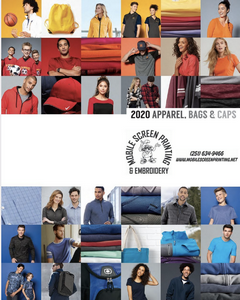 Company Catalog
The following link is to our blank Company Catalog. For CUSTOM SCREEN PRINTING & EMBROIDERY pick out any items and call or e-mail us for pricing. (for more information go to the Company Catalog link at top of homepage)